Course Description:
Learn the fundamentals of superficial anatomy through observation.  This is a course focused on anatomy that is structural and aesthetically relevant to figurative artists, including proportion, form, skeleton and muscles.  Concepts such as abstracting the form will be discussed as well as a figurative art review as it relates to anatomy.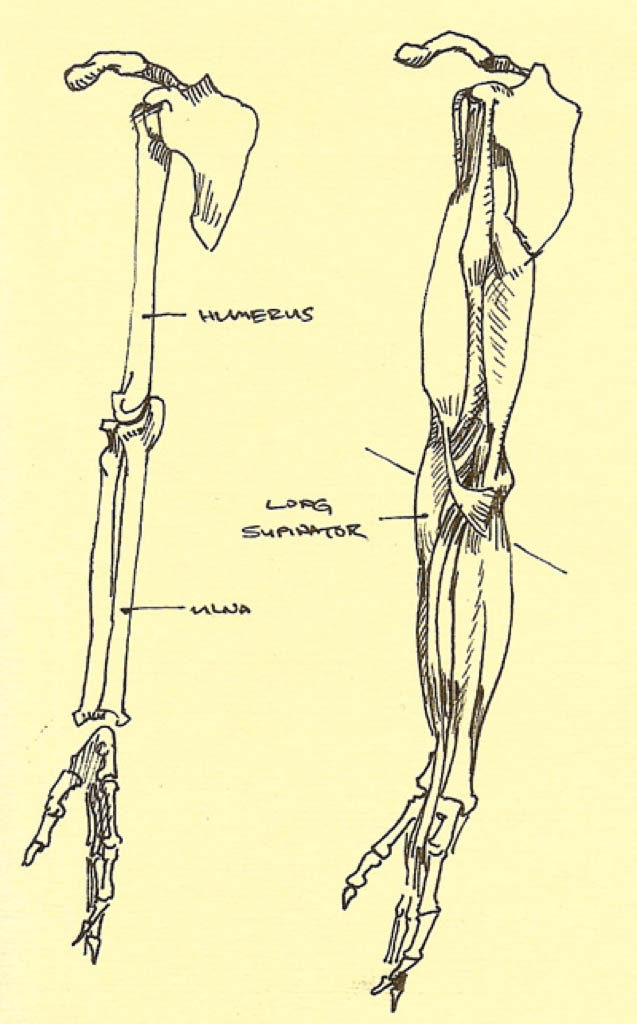 Audience:
Beginning and Intermediate artists interested in drawing, painting or sculpting the human figure.
Prerequisites:
Some prior experience drawing or painting is recommended as drawing from a live model will be part of the class experience.
Note: The classroom experience includes observation from a nude model as well as photographic reference from nude models, cadavers, and anatomical studies.
Learning Objectives
Students will
learn fundamental anatomy, including major muscles, bones, landmarks
learn to interpret observational human body into abstract form
Complete drawings from life, compositing their learning from lectures and reference materials
Course outline (8 sessions):
Introduction and Proportions

proportions of body
anatomy vocabulary

Head and neck
Torso (front)
Torso (back)
Arms and shoulders

Shoulders
Upper and Lower Arm

Hands
Legs

Hips
Upper Leg
Knees
Lower Leg

Feet
Class Sessions:
Classes will be approx. 2 hours each session, composed of:
50 min – lecture
10 min – break
60 min – drawing from model (live, cast, or reference)
Materials:
Students maintain a sketchbook throughout the class to study skeleton, muscles, hands and feet.
Assessment:
This course is not graded or accredited.  However, periodically optional quizzes will be provided to help cement the knowledge.
I will provide direct feedback during drawing sessions as well as individual critique of relevant student projects.
Contact me to get more information about upcoming classes.
[contact-form][contact-field label='Name' type='name' required='1'/][contact-field label='Email' type='email' required='1'/][contact-field label='Comment' type='textarea' required='1'/][/contact-form]